Power and carbon markets slowly resumed trading
The European power spot prices inched down yesterday on lower clean gas costs and forecasts of slightly higher wind production with the rest of the market's fundamentals mostly steady day-on-day. The day-ahead prices averaged 202.40€/MWh in Germany, France, Belgium and the Netherlands, -9.84€/MWh day-on-day.
The power forward prices posted losses along the curve on Tuesday, driven down by bearish weather forecasts and the gas prices opening the session lower.
After four days of Easter break, the EUAs saw another session of quiet trading with very limited variations and thin exchanged volumes as the market continued to present an impressive lack of both financial and compliance demand. Slowly edging down in the morning, the Dec.22 benchmark contract observed a timid rebound in the afternoon enabling it to later close the day at 80.20€/t, +23-cent from last Thursday's settlement with the marginal moves identified as noise rather than fundamentally or speculatively driven.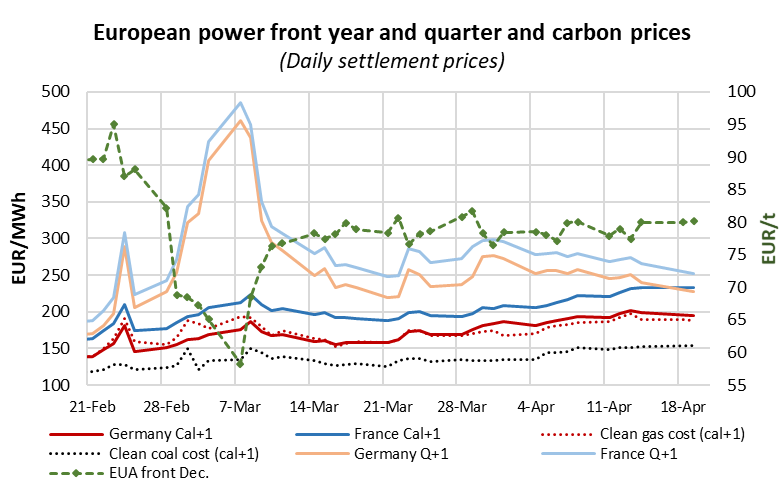 Rising oil prices fuel fears of "higher for longer" Macro & Oil Podcast #66 In this week's Macro & Oil report of the EnergyScan podcast,…
Macro & Oil Podcast #61 In this week's Macro & Oil report of the EnergyScan podcast, OG tells us what to take away from the…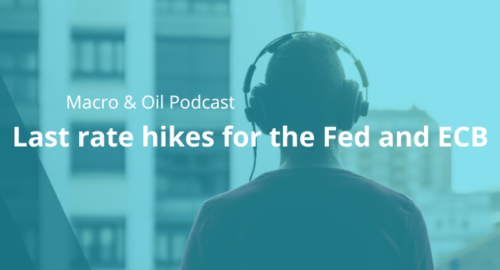 Macro & Oil Podcast #60 In this week's Macro & Oil report of the EnergyScan podcast, OG tells us markets have revised down their expectations…
Get more analysis and data with our Premium subscription
Ask for a free trial here